Email Marketing Tips
May 10, 2019

According to Campaign Monitor, 58% of Gen Z checks their email multiple times per day, and another 23% check their email at least once-per-day.  And, according to the same report, approximately 32% of Gen Z prefers that brands email them "a couple of times per week."  Source
What works for Millennials may not work for Generation Z – especially when it comes to email marketing.  So, here are some best practices and tips to help you improve your email marketing performance targeting Generation Z.
Segmentation.
Not all members of Generation Z are the same, so don't try to create the perfect 'one size fits all' email campaign.
Like all promotional efforts, your email needs to deliver the right message to the right person at the right time so segmenting your email list so that [ex] those interested in Product A receive emails addressing Product A rather than "…we offer more than 100 products and services…" is crucial.
Yes, this means more emails being created but your audience is going to respond to relevant information and offers – Generation Z doesn't want to 'hunt for what's relevant for me', they want clear and concise information that is relevant to their wants, needs, expectations and perceptions.
Oh, and as I mention below…you have about 8-seconds to make that happen so segmentation is critical for your success.
Copywriting Tone: Genuine, Honest, Focus on Value & Hold the Hardcore Sales Pitch
Generation Z doesn't want to be sold to, but they do value genuine, to-the-point copy that focuses on value and relevant unique benefits.
With other generations, "Act Now and Save" is effective – but with Generation Z, it's best to focus on the reasons your product or service offer them unique value.  This may result in longer nurturing efforts/sales cycles, but
Messaging: Explain Your Value to the Person & world
Generation Z wants to understand the value you offer them, and the world. 
How does your product/service help the person reading your email as well as the world?  How does your company give back to society and make things better?
For examples of businesses that do this well – check out Warby Parker, TOMS
Messaging: Realistic
This ties in with the earlier comment about your tone being genuine, honest and focused on value – because you want messaging that is realistically presenting the value of your organization, products and services.
A short story/example.  I teach undergraduate marketing, so my students are primarily Generation Z.  One section of the course addresses consumer behavior and includes a short video about Millennials being driven by 'changing the world rather than making money.'
The students couldn't contain their disbelief over the over-the-top presentation of the concept. 
As one student put it, "It's nice that the micro-brewery in Toronto uses locally sourced organic hops and barley but it's not going to be the sole cause for halting global warming – so stop being pompous and be a little more realistic."
Design: Mobile Convenience vs. Desktop
You might be designing your emails on a desktop, but Generation Z is reading them on their mobile devices so design for their mobile device.
Also remember that this impacts your landing pages so keep any forms short, and make sure everything looks great on mobile devices.
Design: Short, Clear, Concise, Focused
Generation Z has short attention spans – so you have about 8 seconds to clearly communicate the value to them, whereas you had 12 seconds with Millennials.
Automation & Journey Mapping
As mentioned earlier, Generation Z wants to make informed decisions.  And they want the information when they want it – not when your production schedule allows '…the next email to be written and sent…'
You will most likely have an email newsletter that is sent on a regular schedule, as well as one-off campaigns that are appropriate for everyone – but automated email campaigns send the right information to the right person based on their action or inaction which helps you save time while ensuring the right information does reach the right person at the right time.
In the past, the assigned salesperson might be reacting to each individual prospect assigned to them.  This type of manual process led to two typical outcomes.  The first outcome was a poorly written email linked to the wrong information resulting in a disillusioned prospective customer.  The second outcome was nothing sent because the salesperson felt other tasks were more important.
With automation, you can send an email to a prospective customer and set up automated emails based on their own action or inaction, referred to as 'triggers'.
Journey mapping is the process of identifying those triggers and determining what happens because of [ex] their failure to open the earlier email or opening the email and clicking on a link within the email.
You can limit this to emails, or you can incorporate other communication channels into the journey.  For example, in the image below, the initial trigger is "Trade Show".  This means a person visited your booth at a trade show…and moving to the right, all visitors receive a "Thank you" email.
Next, if the Thank you email is clicked, they receive one email, and if the Thank you email wasn't clicked, they receive a different email.  This automated process continues through "newsletter subscription" and "notify salesperson" – or 'remove from email list'.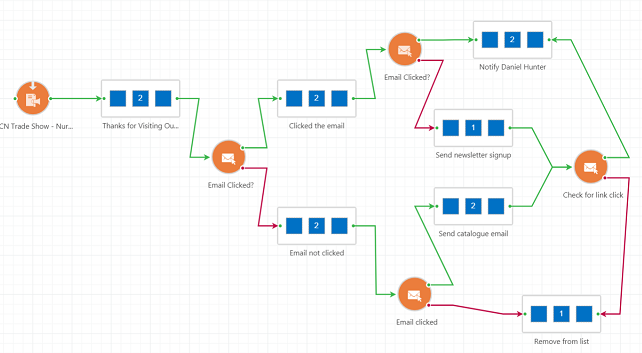 One word of caution – Keep It Simple, Please.
There is a tendency to try to make incredibly complex automation processes.  Don't let that happen to you. 
Also, test the automation prior to launching with your audience because seldom do they come out of the design phase working in perfect order.  There is typically some step in the process that is overlooked, causing the automation process to stop which means your audience is not being nurtured.
Test. Test Again. Test Some More. Always Test.
In addition to testing the automation process prior to launch, and periodically during use to ensure it still works properly, you should always be testing subject lines, email design, format, messaging, offers, timing/frequency and more. 
And by "and more" I mean landing pages, content, responses via other channels like direct mail, telephone, etc.
Research.
Create focus groups, ask questions and listen.  Generation Z will give you some incredible insights if you invest some time, effort and energy into asking and listening.
Generation Z is your today and tomorrow, and they have their own unique set of behaviors, wants, needs, expectations and perceptions.  Do what works for them rather than trying to continue with what worked for a very different audience, Millennials. 
These are interesting and exciting times.

Patrick McGraw is VP of Higher Educaton Marketing Services and has more than 25 years experience in market research, competitive intelligence, business intelligence including database marketing and CRM, strategic planning, brand development and management as well as operations/campaign management. His work has consistently helped his clients and employers develop and implement more efficient ways to attract and retain profitable customers, enter new markets and launch new products. His areas of focus include the education, hospitality, travel and tourism, hi-tech, telecommunications, financial services, and retail industries on both the agency and customer sides.
Add Pingback
Please add a comment
Posted by
wrbullard
on
May 16th, 2019
Excellent piece, Pat, blending useful insights about a generation that's still lesser-known than millennials with helpful hints on messaging, automation, and mobile focus.
You must be logged in to leave a reply.
Login »