Designing and Writing Effective Direct Mail Packages
Aug 27, 2018
Direct mail is both an art and science - writing and designing direct mail that works is difficult and time-consuming so unless you have been successful at writing and designing direct mail in the past, just hire the expertise. They will save you time, money and increase your response rates.
When looking for your designer and writer, make sure they have direct mail experience. Being a 'writer' is not enough because direct mail requires a specific talent and experience – and you don't get it by writing articles for the community newsletter or papers for school.
The same is true for the designer so have them bring in samples and references. Ask them about the process they go through to make certain the package is designed for the right audience.
You can expect to pay anywhere from $2,000 to $25,000 or more for your direct mail campaign – and that includes several concepts to choose from to the finished pieces for all test scenarios. (Remember, if you are testing, you might be getting several different packages!)
What to look for an effective direct mail copy
You never know what the audience will respond to – but here are some basic guidelines to help you evaluate direct mail copy:
Personalization. Start off with 'Dear Jim' rather than 'To whom it may concern' or 'Dear Sir/Madam' and mention their name throughout the direct mail package.
Benefit-driven, not feature driven. People buy benefits (save time, save money, lose weight) not features (8 horsepower snow blower).
Use common language. If you or anyone in your office needs to reference a dictionary to understand the copy, tone it down.
Ask for the order – and remember to ask again. 
Johnson Box: Created by Frank Johnson, a legendary direct mail copywriter, the Johnson Box is found at the top of direct mail letters, containing the key message of the letter.  Its purpose is to draw the reader's attention to this key message first, and hopefully grab their attention, enticing them to read the rest of the letter.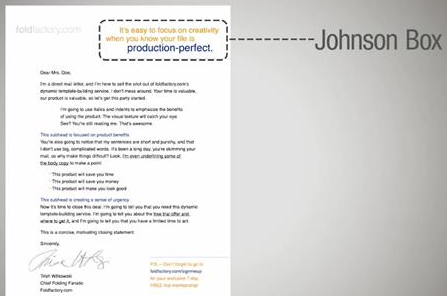 The P.S. is critical. As mentioned earlier, research has shown that most people will read the P.S. at the bottom of the letter to decide if they should read the letter from the top down.
Make the letter 'scannable'.  Formatting (bulleted lists) and use of bold text can help draw the reader's eye to copy you feel is key – action-oriented text (Call 555-555 -5555 today!) Again, there are people that scan letters rather than read them line by line so present your copy in a way that people can easily scan. White space is important – yes, you did pay for the entire piece of paper but that doesn't mean it's wise to cram something on to every square inch.
Correct grammar is crucial.  Proofread. Have others proofread. When in doubt, rewrite.
As for design, focus on layout, images, colors, and fonts. Is your eye drawn to the key elements or is the package so busy you aren't certain where to look? Do the images and colors add value? And are the fonts easy to read?

Patrick McGraw is VP of Higher Educaton Marketing Services and has more than 25 years experience in market research, competitive intelligence, business intelligence including database marketing and CRM, strategic planning, brand development and management as well as operations/campaign management. His work has consistently helped his clients and employers develop and implement more efficient ways to attract and retain profitable customers, enter new markets and launch new products. His areas of focus include the education, hospitality, travel and tourism, hi-tech, telecommunications, financial services, and retail industries on both the agency and customer sides.
Add Pingback
Please add a comment
You must be logged in to leave a reply.
Login »