Click Image Below To
Download White Paper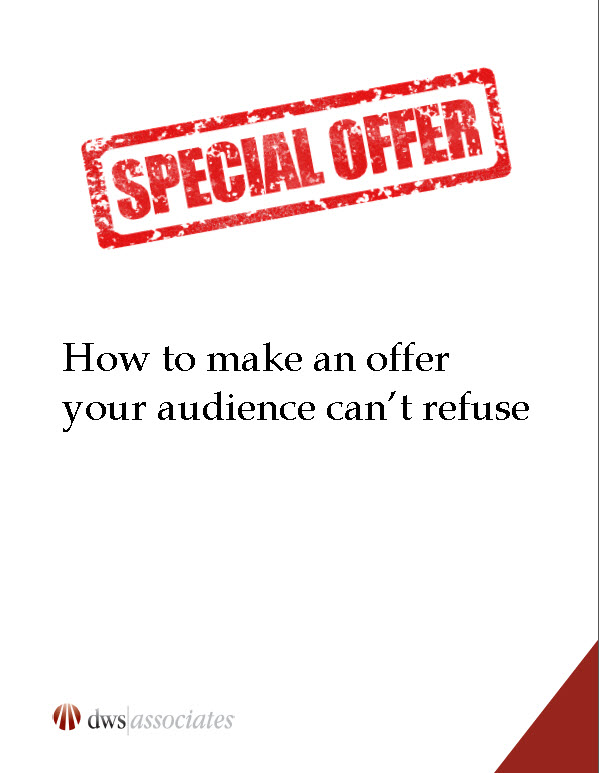 You must be logged in to save Bookmarks.
To find out more about our marketing applications, products and services, click here or call us today at (651) 666-0934.
Direct Marketing Offer Checklist
The Direct Marketing Offer is the second most important aspect of developing a direct marketing campaign.  After identifying and targeting the right audience, it is 2.5 times as important as the least important factor.  It is the whole proposition and incentives that you offer for response.
click to download direct marketing offer guide & checklist
What is an 'Offer'?
It's more than your product or service. It's your total proposition to the prospect or customer.
Besides product, the components of an offer might include a free gift, introductory or discount pricing, low finance rates, free shipping, to name just a few. Offers have a major impact and they can positively or negatively impact your programs response.
The more generous your offer, the greater the response. If you're after really large response, then make a really generous offer. If your goal is to attract qualified leads from very interested prospects then a lesser offer will be more effective.
Make sure your offer is relevant to both your target audience and the product you are selling. If you mismatch the offer to the audience, it won't be attractive and you can discourage interest on the part of potential buyers.
Before working up your offer, check to see what your competitors are doing.
If you can make an offer without reducing the price of your product, this is the best path to follow because customers acquired at reduce margins or special pricing generally continue to respond only to these kinds of offers and are very hard to convert to full pricing offers.
Why is the 'Offer' so important?
Because the right offer can sell almost anything.
The offer is one of the simplest and most dramatic ways to improve direct marketing results.
All other things being equal, it's the most crucial of the three parts of response creativity.
It's important to think of your market as you are structuring your offer.

What's their sex, age, educational level, special interests, and social-economic status?

How you state the offer counts.
It both selects and involves the prospects.
It determines the quality of the customers who respond.
It's an important aspect of creativity to find new ways of stating an existing offer.
It's important to find new offers.
What makes up an 'Offer'?
The products/services
The price of the product/services
The payment terms
The way the offer is worded or pictured
Any incentives, bonuses, extras, premiums
Any time limitations or restrictions
Any free literature or booklets
Any special fulfillment options – e.g., free shipping
What types of 'Offers' are there?
Basic offers

Right price
Free trial
Money-back guarantee
Cash with order
C.O.D.
Charge card privileges
Bill me later
Installment terms

Free gift offers


Free gift for an inquiry
Free gift for a trial order
Free gift for buying
Multiple free gifts with a single order
Your choice of free gifts
Free gifts based on size of order
Two-step gift order
Continuing incentive gifts
Mystery gift offer

Discount offers

Cash discount
Short-term introductory offer
Refund certificate
Introductory order discount
Trade discount
Early bird discount
Quantity discount
Sliding scale discount
Selected discounts

Sales offers

Seasonal sales
Reason-why sales
Price increase notice
Auction-by-mail

Sample offers

Free sample
Nominal charge samples
Sample offer with tentative commitment
Quantity sample offer
Free sample lesson

Time limit offers

Limited time offers
Enrollment periods
Pre-publication offer
Charter membership or subscription offer
Limited edition offer

Guarantee offers

Extended guarantee
Money-back guarantee
Double-your-money-back
Guaranteed buy-back agreement
Guaranteed acceptance offer

Build-up-the-sale offer

Multi-product offers
Piggyback offers
The deluxe offer
Good-better-best offer
Add-on offer
Write-your-own-ticket offer
Bounce-back offer
Increase and extension offer

Sweepstakes offers

Drawing type sweepstakes
Lucky number sweepstakes
"Everyone Wins" sweepstakes
Involvement sweepstakes
Talent contests

Club & continuity offers


Positive option
Negative option
Automatic shipments
Continuity load-up offer
Front-end load-ups
Open-ended commitment
"No strings attached" commitment
Lifetime membership fee
Annual membership fee

Specialized offers


The philanthropic privilege
Blank check offer
Executive preview charge
Yes/no offers
Self-qualification offer
Exclusive rights for your trading area
The super dramatic offers
Trade-in offer
Third party referral offer
Member-get-a-member offer
Name-getter offers
Purchase-with-purchase
Delayed billing offer
Reduced down payment
Stripped-down products
Secret bonus gift
Rush shipping service
The competitive offer
The nominal reimbursement offer
Established-the-value offer