Developing Your Content Marketing Strategy
Nov 21, 2018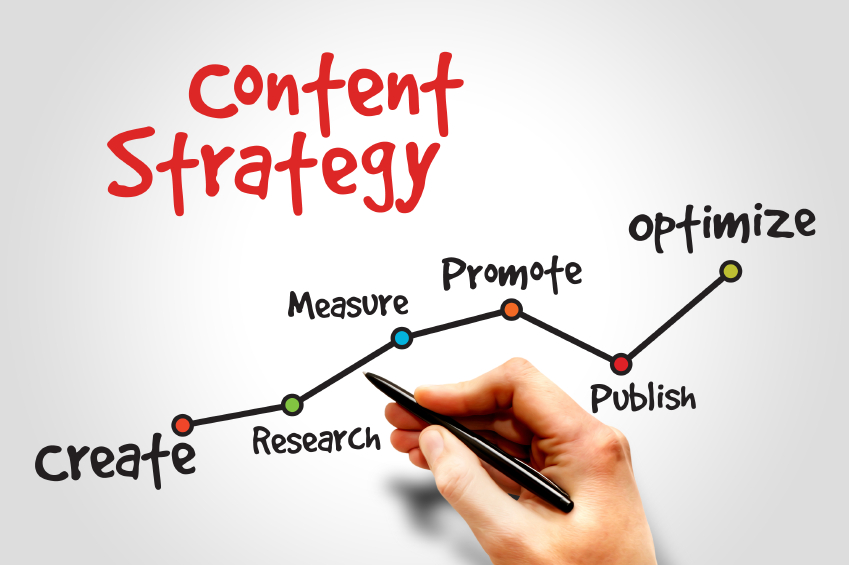 Developing your content marketing strategy is key to your ability to implement a successful content marketing program.
Define your content marketing goals.
What do you need to accomplish with your content marketing efforts?  Generate more leads that become customers? Generate more site traffic?  Increase awareness? Other?
Though setting up content marketing goals sounds basic and may have many of you rolling your eyes - it is the failure to start here that causes so many organizations to waste a large amount of their limited resources and fall far short of their sales and profit goals.
Your goals need to be focused and measurable.
Focused means that you should have two to four in number on the same outcome.  A couple on lead generation that generates new customers might be:
To generate # leads by DATE
To convert #/% of the new leads into new customers by DATE
To generate $ income from the new customers.
Develop Personas
Now that you know what you must produce, you need to understand who you need to focus on to achieve those goals.
If your audience is consumers, you want to gather information that gives you a solid understanding of their demographics, psychographics behavioral and geographic factors.
However, if your audience is other businesses, you have a two-step process that addresses the consumer with business factors.
For more specifics, check out this post about personas.
Content Audit
Most will focus on digital content - I strongly recommend any and all content.  Offline and online.
The reason is simple.
Most organizations develop unofficial communications and communications channels that share content/information with members of the target audience/personas and that leads to a lot of incorrect information being given to your audience/personas.  That is not good and should not be allowed.
Alright, grab some popcorn and your favorite beverage - this short 4-minute video will explain the process, offer suggestions and more.
What is your content management system?
Your system will oversee your on-going content creation (what is the topic, the media, the tasks and owners, due dates, deadlines, budget, etc.), content publication and analytics.
Some of the leading web/digital content management systems include WordPress, Joomla, Drupal, and TYPO3.
The challenge is that they aren't designed to address your traditional content needs.
Add More Meat to the Content Marketing Plan
Now that you know what you have, it's time to start laying out what content goes to which segment or persona at which stage of their decision-making process. That will help identify what you have, what you need to tweak/improve and what you need to create new and fresh.
Do you need more blog posts, white papers, checklists, ebooks...
When do you need them? For which personas are they needed?  When? Distribution channel?
What are the offers/calls-to-action for each piece of content, for each persona at each stage of their decision-making process?
Create, Review, Publish, Distribute and Manage Your Content
The next few steps are all about getting the content created and into the hands of your audience, so you can measure results and determine next steps.
Who is involved in the creation, review, and approval of content internally?  What are the tasks, milestones, owners for creation, review, modify and approval?
Once approved how is responsible for publishing and distributing via owned, earned, paid and social media channels?
And then once the content has been distributed, how are the key data points captured, stored and analyzed?
Conclusion
There is a lot of work to do but tools like our Editorial Calendar and Production Schedule will help.  Check out the "walk through" video that walks you through the automated features in the Calendar and Schedule.
And, of course, you can call us for assistance – we can help you with guidance or we can jump in and do the heavy lifting like the content audience and development of the plan.  

Patrick McGraw is VP of Higher Educaton Marketing Services and has more than 25 years experience in market research, competitive intelligence, business intelligence including database marketing and CRM, strategic planning, brand development and management as well as operations/campaign management. His work has consistently helped his clients and employers develop and implement more efficient ways to attract and retain profitable customers, enter new markets and launch new products. His areas of focus include the education, hospitality, travel and tourism, hi-tech, telecommunications, financial services, and retail industries on both the agency and customer sides.
Add Pingback
Please add a comment
You must be logged in to leave a reply.
Login »