Amazon Losing Billions - You Should Be Scared
May 03, 2018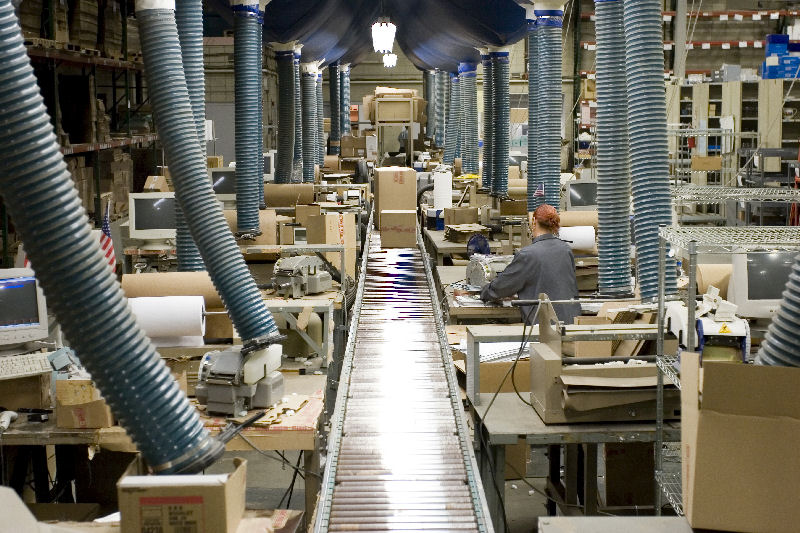 Amazon Losing Billions - You & Their Competitors Should Be Scared 
 "Amazon is losing billions from its retail business and rivals should be scared.  Amazon clearly doesn't care about making money from its retail business. Lookout everyone else."
I have been on record for years that Amazon is not in the retail business, and that they were using retail merchandise sales as a loss leader to buy market share in the form of bodies [As a Prime Member, I'm one of them.] so they could offer other services and products [e.g., Prime Membership] that did make money, as well generate billions in advertising revenues from companies that wanted to reach that huge customer base.  As the Street says, other retailers and eCommerce companies should be scared because they are making it impossible for the real retailers to make money and it's only going to get worse as time goes by.  Amazon is not a retailer, in fact, the best description I have heard is that they are a "logistics company that creates its own demand."  
"Amazon reported $1.9 billion in net income on $51 billion in revenue for the quarter, and that is only a 3.7% profit margin, but it gets worse when you separate out AWS (Amazon Web Services) and Prime from the retail side of the business. However, if we back out the AWS numbers from the overall results we are left with $45.6 billion in revenue and $500 million in earnings. Margins outside of AWS then shrink to 1%, but retail is actually worse than that. And, they don't care."
The Amazon business strategy and model is destroying the traditional retail business model, whether you sell in stores or via catalog or over the web. They're setting a major precedence in consumer commerce that the industry may not be able to recover from and that's discounting to the point that no one who is in the retail business can make money if they sell goods that Amazon sells and that's pretty much all product categories.  And, it's setting unreal expectations among many consumers who seem to think that they should get everything at a low cost, or free in life. The same attitude that makes many of them believe they shouldn't have to pay taxes.  Case in point, a new study finds that consumers will walk out of stores empty handed if they find in store prices don't match lower online prices (click to read article).  So, in store retailers are put in the unenviable position of having to compete with online eCommerce companies that are low balling or giving away merchandise in order to build market share.
Damn right competitors should be scared, but I will go several steps further.  Not only should retailers and eCommerce businesses be scared, but also; members of the manufacturing and logistics/fulfillment industries; companies in industries that Amazon is interested in expanding into, such as healthcare, insurance, and logistics, etc. and lets not forget that they are already changing the face of the publishing business.  Finally, and this is important to any business in an industry where someone can apply the  Amazon business model. 
So what does Amazon's success mean for other businesses that are not direct Amazon competitors?
Directly and indirectly, this is putting pressure on revenues and margins in the manufacturing and logistics/distribution industries.  Because of it's purchasing power, Amazon is already making big demands on suppliers and shippers for inventory stocks, discounts and benefits that are not offered to others in their sector (click to read article), including huge tax breaks.
The bad news for those that succumb to the Amazon siren is that if Amazon succeeds in crushing competition then those manufactures/suppliers are going to have fewer and fewer retailers and eCommerce companies to sell. The lost volume will not be made up by Amazon.   You can just look at one example of this kind of pressure by what's happened to Under Armour with the loss of a major retail outlet in Sports Authority. They have yet to make up for that lost volume. Whether or not, or how much Amazon had a role in the Sports Authority's demise is subject to debate.  But, the fact is that volume has been lost.
Another case is that of Toys"R"Us. The success of Amazon obviously played a role in this business's collapse on top of the other issues like debt management, but the end result is that the toy industry is not going to find a replacement for this lost volume.  
If this trend continued to happen across the board, there would be major losses in the manufacturing and logistics/distribution industries. It takes a lot more goods to fill up store shelves and stockrooms, than it does to fill up a direct sellers fulfillment warehouse. Taken to an illogical extreme, the disappearance of major retailers across the board would signal a major crisis for the manufacturing and logistics industries. All, the new direct marketers in the world wouldn't replace that lost volume, revenue and profits of these industries.
Now consider what would happen if Amazon expanded beyond the retail business or the Amazon business model was adapted by companies in other industries.
Amazon has already entered the publishing industry and besides the impact they have had on the sale of books, they have also become direct competitors to publishers through their publishing arm, changing the way books are published and affecting the revenue and profit margins in that industry.  The publishing industry is getting pressure from Amazon on both sides, the retail/distribution side and the actual publishing side of the business.  On the retail side, with the exception of Barnes & Noble, the big book retailers are gone and that can be wholly attributed to Amazon's pricing and distribution practices.  
In other industries, what Amazon is doing might be called "dumping" and there would be holly hell to pay and the leaders in the industry would be lobbying Congress for protection, in the form of tariffs or other considerations. Case in point, the Boeing Bombardier scuffle over the CS100 aircraft. A product category which Boeing doesn't even offer, the small regional jet category.  Boeing which is asking for huge tariffs says that jet unfairly competes with their B737 product.  
The interesting thing is that in the 70s and 80s, the FTC would have put a stop to Amazon's practices as unfair competitive practices. With the hands off policies in place today, it is rare that the Fed gets involved, unless it's a major industry which has the government as a huge customer, thinking of Boeing here.  As a former retailer, we used to worry about that because a visit from the Fed was more than possible if your competitors raised a stink.   Those days are gone.
Bottom line, few industries are safe from Amazon or the adaption of the Amazon business model.
We have all heard the success story of the Dollar Razor Club.  From rags to riches for the founder of the company, who sold it to Unilever for a hefty price tag before the company made a nickel.  In fact, the company was losing its shirt.   The theory behind that business model was to use razors as a loss leader to attract buyers (build market share) and then convert those discount buyers into regular priced regular buyers of other products and services.  Based on 4 decades of experience in the consumer direct industry I strongly doubted that they would accomplish this goal.  If they became profitable it wouldn't be because of merchandise sales.  "Once a discount buyer in direct, always a discount buyer and they are pretty near impossible to convert."   Strangely enough, we have heard nothing from Unilever since they made this jaw dropping purchase.  My guess is that this one is going to get buried in the books. 
The retail industry is caught in the ultimate Catch-22.  To differentiate themselves from Amazon they need to offer products and services that Amazon doesn't provide.  Price matching might mean the loss of fewer customers to Amazon in the short term, but it puts pressure on already shrinking margins and you build a shopper mentality that expects you to lower your prices to get their business.  Meanwhile the same customers are demanding more service and better sales support services, more people who are better trained (click to read article).  
Amazon is dabbling in the logistics business to reduce their shipping costs.  They've bought a fleet of jets and they now have Amazon employees (or contractors) making home deliveries with their own vehicles, part of our gig economy.  Yep, about half of the purchases I make from Amazon arrive via personal automobile these days.  USPS is giving huge breaks to Amazon on non existent margins.  And both FedEx and UPS are experiencing increased competition and pricing pressures from Amazon.  
Is any one safe?  
With 100 million Prime Members (not customers) what's next?  Prime Education?   Prime Banking?  Amazon is already talking about banking services.  How about Prime Airlines or PrrimeExpress?  If your product or service touches consumers, the answer is probably "No."   If you provide products or services to those that supply products and services to Amazon or Amazon's competitors (past and present), then you can't expect to skate free.  They have already entered the healthcare products sector (click to read article).
How to avoid or beat the Amazon business model.
The key, whatever industry you're in that Amazon or a clone decides to enter, is to provide a range of products and services that the Amazon business model doesn't offer the company big advantages over others in that industry.   Not all retailers are seriously threatened by Amazon.  The Home Depot is doing well.  Big box discounters are dong well.  Some specialty chains or stores that cater to specific market segments and offer the right mix of products and services are doing well. 
The other thing that you can do is develop a market intelligence program to stay on top of your industry and competitors to foresee any changes in strategy that would indicate a move by anyone to this business model or worse yet, Amazon's entry into the sector.  We've been watching the development of the Amazon business model over the years and none of what's happening in the retail industry was a real surprise to us.  Case in point, the extreme discounting taking place in the industry that is affecting all retailers (click to read article). Buying market share and building a customer list by discounting is the kiss of death in the direct channel unless you plan to make money running a discount business.  In the direct channel, it's almost impossible to convert a discount buyer to a regular price buyer once you have acquired them. Rather than pay higher prices, they will move to the next best discounter and offer.  Also the high state of returns in the eCommerce business which are continuing to grow. (click to read article).  And, free shipping, the hook that everyone seems to be overusing is another way to kill profitability and if carried to extremes lead to the businesses' closing.  L.L. Bean has recently amended their too liberal returns policy and Amazon is going in a different direction with their "Try Before You Buy" Program for Prime Members, which is a story in itself.
To learn more about our market intelligence products, programs and services, click here.
Selling Direct...Doing It Right
In somewhat associated news, Wayfair reported a dismal financial picture for the 1st quarter as their losses continue to widen (click to read article). They will not survive if they can't find ways to generate profitable revenue from their customer base. Clearly discounting selling direct is not working for them.  Wayfair, unfortunately is an example of not doing it right.  
To prevent the problems that Wayfair and others jumping on the eCommerce bandwagon are experiencing, we offer a range of services and tools to help those that want to sell direct to consumers develop and grow a profitable business model.  In addition to analytical tools and apps, we offer a full range of direct marketing consulting services, including direct marketing workshops that have been take advantage of by such companies as IBM, Neiman Marcus, Sony and others. 
To learn more about our direct marketing workshop, click here.
To learn more about our other direct marketing services, click here.
To use our planning and analytical tools for direct marketing, click here.
If you're having problems and would like our assistance, click here to learn more about our Direct Marketing Audit. 

Dudley Stevenson, founder and CEO of DWS Associates, has over thirty-five years' experience in consumer marketing, business-to-business marketing, and direct marketing, including developing, planning, and implementing go-to-market strategies. He's also the author of "Marketing Direct: Breaking Through The Clutter." Working with organizations ranging from start-ups to Fortune 100 companies, he and his team have helped clients such as IBM, Sony, Neiman Marcus, Arizona Highways, Marshall Field & Co., Mrs. Field's, UNICEF, and Patagonia implement successful direct marketing programs. A longtime member of the Direct Marketing Association and the American Marketing Association, Stevenson is also a sought-after speaker. He's given hundreds of presentations and workshops on marketing and direct marketing. His "Marketing Planning 101" workshop alone has reached more than 100,000 marketing and sales professionals.
Add Pingback
Please add a comment
You must be logged in to leave a reply.
Login »