How to Make Significant Improvements to Student Recruitment Results
Aug 02, 2016
Our Mystery Shopper Audit has helped us – and close to 100 colleges – identify practical ways to improve student recruitment results.  Here are the most common and effective…
Target Audience Insight & Segmentation
One of the first questions we ask when we meet with the client to kick-off the Mystery Shopper Audit is "Who is your target audience?"
Typically the answer is short and filled with basic demographics – age and gender.
When we try to dig deeper and discuss motivations, needs, wants, expectations, perceptions…we typically hear [a] assumptions and guesses or [b] admission of a lack of knowledge or deep insight followed by "…we haven't been able to gather that information because our staff can't handle the extra bandwidth, doesn't have the experience to do that work and/or we lack the budget to acquire the manpower with the expertise.
In recruitment, our job is to provide the prospect with the right information at the right time via the right channel so they are motivated to take the right step forward.  But that means we need to know their decision making criteria (information they need) and process (when they need specific information to meet their current needs and make informed decisions.  Not understanding their decision making process and/or decision making criteria has a significant impact on your success.
So what should you do to improve student recruitment?
Stop guessing.  Go ask your prospective and current students where they go to identify their options for college education.  What information do they need? What questions do they need answered before they decide "…this is a program I want to learn more about…" or "…this is a program that isn't right for me, I need to look elsewhere…"
With that information, you will be creating more effective messages and offers, and you will be identifying the media channels they use to gather the information they need to make their decision.  And you will have a clearer idea of their path from "inquiry" to "enrolled student" so you can deliver the right information at the right time via the right channel.
If you can, take it further and add demographic and geographic data to the mix.  This helps you go even deeper – for example, in-state students do X while out-of-state students do Y. Or traditional undergraduate students want A but non-traditional students returning to complete their undergraduate degree want B and non-traditional students seeking a graduate degree want C.
If you have questions on this…feel free to contact me…I offer a free consultation for situations like this!
And before you go….there's more…
Contact Plan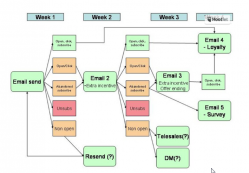 The Contact Plan is your schedule for reaching out to (in this case) a prospective student in order to provide them with information, gather information you need and (ideally) help the prospective student realize they want to move forward in their decision making process with you.
Most contact strategies are like this:
Prospective Student provides us with basic information and is placed in the CRM.
Prospective Student receives a "Thank you" email within 1 day of being placed in CRM and is also assigned an enrollment counselor from our staff.
Enrollment counselor will send an email, thanking the prospective student for expressing interest in our college/program and providing their contact information to the prospective student with an "offer" of "…if you have questions, give me a call…"
Enrollment counselor either sends an email 4-5 days after their first email OR makes an attempt to contact the prospective student by phone.  The purpose of the email/phone call is to mention financial aid is available and that they can start the online application by clicking a link in the email or visiting the website and clicking "Apply Now"
Enrollment counselor sends an email 4-5 days after the previous email mentions "caring staff" and "world class faculty" with "flexible, convenient education".  Also included is "…if you have questions, contact me…"
You get the point.
The challenges in this approach are:
Low frequency of attempts.  In the 2-weeks following a prospective student's request for information about your program, you sent the 3 emails and made 1 phone call.
Limited to 2 communication channels with heavy reliance on email.  Email is easy.  Email is 'free'.  Email is also a way to avoid conversations that might be difficult to have – and they can are done (off your check list) once you hit send whereas a call could lead to a 30-minute conversation, if not longer!  The point here is many colleges hide behind email and avoid face-to-face engagement or voice-to-voice engagement because they have enrollment advisors that are great at writing up the enrollment but not comfortable proactively reaching out to the prospect and trying to gather, analyze information that could lead them to say "This is not the right program for you" or "Here's why you should enroll here…"
Feature rich/benefit poor copy.  Your staff is "caring".  Your faculty is "world class"  Your courses are "convenient" and "flexible".  And all of those are features.  People buy benefits.  People buy solutions to problems, to their unmet or under-served wants and needs.  Benefit-rich copy is about answering the "What's in it for me" question your prospects have – and you can't answer that unless you understand what their unmet or under-served wants and needs are or what problems they face.
Weak call to action. "Call me if you have questions" is easily ignored.  Instead, try "We need to talk about what you are looking for in a college program.  Your motivations. Your concerns.  So, I will call you on Date at Time so we can spend 15-20 minutes sharing information and making sure our program is the right solution for you.  If that day/time isn't convenient for you, please contact me by email or phone with alternatives."
No attempt to qualify the prospective student leads to wasted time, money.  Many of you have read the sample copy in the example above and thought "…what happens when they don't take the call or reschedule…"  The answer is "…they have just told you that they aren't a "high quality prospect" at this time so you might wish to consider focusing on those that do speak with you, share information with you, engage with you.
So what should you do to improve student recruitment?
We strongly recommend mapping out your contact strategy as a contact plan flowchart.  What will be done, by whom, when etc.  Break the flowchart down into stages – for example, inquiry to started application, started application to submitted completed application, accepted/denied admission, accepted offer of admission, enrolled, attending classes….
Then map out when you will reach out to them, via what channel, for what purpose – meaning what is your offer and what does the recipient need to do for the communication to be successful.  For example, the automatic email that is sent to the prospective student in response to them submitting a request information form could have "call John, your assigned enrollment specialist, by Date/time to discuss the following…"
If they call John and schedule the appointment, great.  Next contact is that call.
If they don't call John by the day/time recommended, the next contact is John calling them and, if John contacts them, having the conversation at that point or scheduling a day/time for the conversation.  If John doesn't connect, an email is sent referencing the attempted contact and re-stating the importance of scheduling the conversation.
And this process is mapped out until the person starts the application process…at which time you work on the contact strategy/process for the Started Application to Submits Completed Application and so on and so on…
Got questions about how this might work for you? Contact me for your free consultation!
Messaging & Offers
There's more to "contact me if you have questions" and "Apply now".  And your target audience has segments within it that are motivated by different things and are concerned about different things – which means that your messaging needs to be relevant for the segment.
Let's start with messaging.  Some of your prospective students are going to be concerned about finances and the cost of their education.  Others will be concerned with whether or not they can balance work, family and school.  And others are wondering how your program will help them achieve their professional goals more effectively than other programs at other colleges.
You need to be able to ask the right questions early in the process so you can identify their selection criteria, wants and needs, expectations and perceptions because the sooner you do this, the sooner you will be able to provide them with the information they need.
And as for offers, think of what you need to provide them to motivate them from "hey I am just checking out my options and seeing what you offer" to "I like what I see so I started the application" and "now that I completed the application and been accepted, should I really enroll in classes and if so how"…
In the early stage, a great offer might be "Download this checklist designed to help you find the right program for you!" and later in the process a great offer might be "apply now and save $100 on your first term tuition" or "register today for the upcoming term and receive X"
Focus on what would motivate them to move forward with you, then test that offer.  But get past "Apply Now" as being a compelling offer unless you're later in the initial process.
So what should you do to improve student recruitment?
Every contact is an opportunity for you to answer their questions as well as gain answers to your questions.  Use these opportunities to learn.  As part of your planning of the contact strategy, write down what information you want to gather.  Then make sure you ask for that information…if you get it, that's a strong indicator that the individual is engaged with you and worth your time (assuming the information is positive).  If they decline, then they are giving you a sign that they aren't that engaged with you. So when you are pressed for time, you can prioritize them based on what you know…which helps your staff become significantly more productive!  (Your enrollment team might have 100 prospective students assigned to them…and maybe 80 are behaving as if they are highly likely to enroll based on your engagement with them and the information they shared with you.  When it comes down to "crunch time", your enrollment team should focus on those 80 and address the other 20 if there is enough time.  Or maybe those 20 get emails rather than phone calls?)
Still have questions about what was just discussed?  Contact me and let's talk it through!

Patrick McGraw is VP of Higher Educaton Marketing Services and has more than 25 years experience in market research, competitive intelligence, business intelligence including database marketing and CRM, strategic planning, brand development and management as well as operations/campaign management. His work has consistently helped his clients and employers develop and implement more efficient ways to attract and retain profitable customers, enter new markets and launch new products. His areas of focus include the education, hospitality, travel and tourism, hi-tech, telecommunications, financial services, and retail industries on both the agency and customer sides.
Add Pingback
Please add a comment
You must be logged in to leave a reply.
Login »