Is 'eMail Blindness' Killing Your Business?
May 18, 2017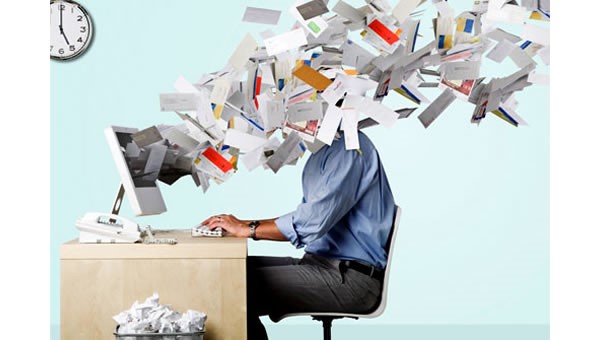 The average adult receives 120 email messages per day – and if you're seeing response rates from your emails decreasing, you could be a victim of 'eMail Blindness'.
What causes eMail Blindness? 
There can be many causes – ranging from bad targeting to completely pointless (to the reader) messaging and offers, boring design and more.  But one of the most overlooked causes of eMail Blindness is 'over reliance on email' -  a situation where an organization sends everything via email, ignoring the recipients preferred channels as well as more appropriate channels for specific stages in the decision-making/selling cycle.
Over reliance on email is caused by several factors ranging from inexperienced staff that mistakenly believe that "everyone is on email so that's all we need to us" combined with a lack of experience in using any other communication channel.  You can easily identify these staffers by their previous and current job titles which tend to have "Email" and/or "Digital" included.
Another cause of email over reliance is the ancient myth that "email is free" that is still held as a major belief of people that fail to understand that the email platform, design, writing, list building and maintenance are expensive.
Is there a cure for eMail Blindness? 
Fortunately, there is – and it's to work with someone that has successful experience in multi-channel and/or integrated marketing communications.  These people understand that the key to success is using the right channel at the right time with the right audience in order to generate the desired response.
Be careful because there are some that will tell you they are multi-channel/integrated marketing communications experts but when you watch closely, they still over-rely on email and their work in other channels like direct mail, telemarketing, broadcast, print and other channels is limited and weak in terms of return on investment.  Listen for phrases like "…direct mail didn't work with their audience…" or "…no one watches television anymore…" – these are clear giveaways that the person is not truly skilled in multi-channel/integrated marketing communications.
How do you know you're cured?
Well, we would suggest that you are "cured" when you see results similar to, if not better than, those reported in a recent study by InfoTrends.  They reported that a direct mailer plus a web landing page or email can increase response rates by 27%, while having both the web page and email in addition to the mailer raises them by 37%; adding mobile marketing as well raises the rate by 45%.
Infotrends also reported
"…when print, email, personalized URLs, and mobile were used together, the response rate jumped to 8.7% and the conversion rate rose to 19.0%."
What you should do if you think you are suffering from eMail Blindness?
Contact us at 651-666-0934 or info(at)dwsassociates.com IMMEDIATELY!

Patrick McGraw is VP of Higher Educaton Marketing Services and has more than 25 years experience in market research, competitive intelligence, business intelligence including database marketing and CRM, strategic planning, brand development and management as well as operations/campaign management. His work has consistently helped his clients and employers develop and implement more efficient ways to attract and retain profitable customers, enter new markets and launch new products. His areas of focus include the education, hospitality, travel and tourism, hi-tech, telecommunications, financial services, and retail industries on both the agency and customer sides.
Add Pingback
Please add a comment
You must be logged in to leave a reply.
Login »